A tribute to the music of one of the most popular and prolific bands of all time: Chicago!
---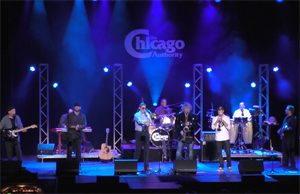 RIVIERA THEATRE AND PERFORMING ARTS CENTER
FULL SHOW – TWO FULL SETS! CLICK ABOVE FOR TICKETS
OR Call (716) 692-2413
Friday, August 16th, 2019, 8 pm
67 Webster Street
North Tonawanda, NY 14120
Get your tickets early — This show sold out the last time we performed there!
---
"WOW! YOU GUYS SOUND KILLER!"
–Keith Howland, Guitarist, Chicago
The Chicago Authority is a tribute to the music of one of the most popular and prolific bands of all time: Chicago! For fifty years Chicago has been one of the world's top touring acts, and their 2016 induction into the Rock and Roll Hall of Fame has skyrocketed their popularity and introduced their vast 36-album catalog of music to millions of new fans. Read More …
For the past few years The Chicago Authority has been honored to perform in Dunkirk at the "Thursdays on the Pier" music series. This year was a bit different because (1) the pier is under construction, and (2) the Independence Day celebration fell on a Thursday. So they set up the stage a few hundred …
A huge THANK YOU to Jimmy for allowing us to take over his incredible venue, the River Grill in Tonawanda, NY. The place was packed with fans, friends, and family to hear us run the tunes we'll be performing this summer season. The only bad thing anyone has ever said about this venue? It's only …
Another SOLD OUT show at the legendary Sportsmens Tavern! More important, though, is the fact that we were able to donate another $1,000 to the Sportsmens' Americana Music Foundation. This caring organization's mission is "getting music into the ears and instruments into the hands of kids in Western New York." We are now at about …