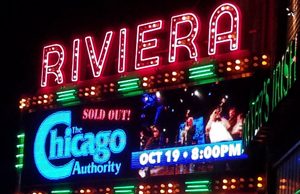 We performed Friday to a SOLD OUT show at THE RIVIERA THEATRE in North Tonawanda! Nearly 1200 people cheered us on with several show-stopping standing ovations.
The "Friday Tribute Series" is becoming very popular at this theatre, and special thanks for major sponsorship of the event goes to the Catholic Health System and Kenmore Mercy Hospital. Our own keyboardist, Tom Scime, is a retired First Responder, and Kenmore Mercy Hospital honored him and all of the area's First Responders by purchasing a huge block of tickets for them and their spouses.
Thanks to the amazing Tech Crew led by Chuck Antolina with Neil in Monitor World, and to Laura and David for their wonderful hospitality!