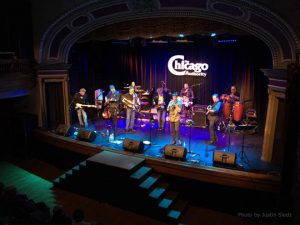 A huge THANK YOU to everyone who packed this gorgeous venue for our sold-out performance. WHAT FUN!! Special thanks to the entire staff for their wonderful hospitality.
This show also marked the debut of Jerry Marrero on percussion, who Tore.It.Up!
Opened in 1897, the LOH has a stage with a rake, or rise, from front to rear of 1/2-inch per foot. This was done so audiences on the flat floor could see performers who were upstage.
Visit the Lancaster Opera House Website
Photo by Justin Sledz