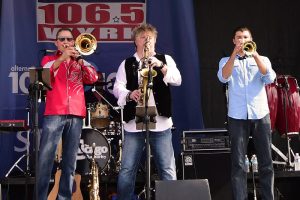 The University at Buffalo's UB Bulls Stampede Tailgate Party was a BLAST! We were treated like kings by the staff, crew, and especially the fans of UB Football from the moment we arrived.
Our 90-minute set included "just the hits" and the crowd responded by singing, dancing, and smiling the entire time.
The Tailgate Series is done for this season, but it is a "must" for next year: Food, fun, music, perfect weather, and the excitement of big-time college football!