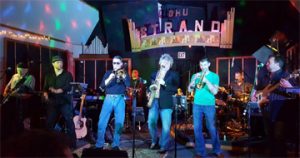 We love the intimacy of the DHU Strand Theater. Our shows there allow us to try new tunes and, more importantly, they let us get to know you personally. Our brother Sal "Phil Donahue" Marino carries a container filled with slips of paper. The name of one song is written on each slip. Sal has you pick a slip of paper, holds the mic while you announce the name of the song, and the band has to play it. He also opens the floor for Q&A.
Aside from one confused person who thought Chicago's "(I Just Want To Be) Free" was actually "FREEBIRD" (yes, there's always one!) things went very well.
Thanks to everyone for spending your evening with us, and for being good sports!