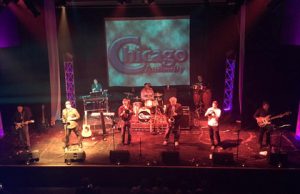 We arrived at the Seneca Queen Theatre in Niagara Falls, Ontario to meet a terrific tech crew who had already worked hard to make sure everything was perfect. The "Springlicious" street festival was happening right outside the theatre's front door, so we took advantage of the area's offerings and listened to some great local music while we waited for show time.
When we hit the stage, the audience was ready. The response after the first song set an energy level that we thought couldn't be bettered, but it increased after every song. This is an audience that loves its music, and it shows! Even our "hard-core-fan" selections such as Poem for the People and Mother were met with excited applause. We left every bit of energy we had on the stage, and by the end of the show we could barely move!
After the show, we got a chance to talk with many of our new friends at the Meet & Greet in the lobby, and it reinforced what we already knew: Our neighbors to the north are some of the friendliest people on earth!