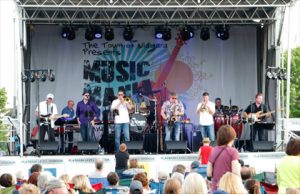 Town of Niagara Supervisor Lee Wallace said it was the biggest crowd ever for the Music Mania Mondays concert series at Veterans' Park. Everything fell into place to make it one of those perfect (but humid!) western New York summer evenings.
As the song goes, "people dancing, people laughing, a man selling ice cream …"
Our friends Eli – A Tribute to Three Dog Night opened the show with a great set of tunes from another hugely popular band. Thanks, guys!